Almost everyone uses mobile devices nowadays. The market for mobile applications is really huge. The site https://42matters.com/ has statistics that show that currently, over 6.1 million applications are existing from > 1.9 million publishers. If you have a cool idea and you finally create a mobile application, the first goal is that your application will be downloaded from the bunch of apps in stores. Your app may be exceptional, well coded, without bugs, well designed, but still, the download numbers can be poor. Where is the problem? Why?
The answer is simple: You need a great marketing strategy to succeed.
This blog post will give you some theoretical knowledge for Mobile App Marketing, an overview of the main stages of the marketing funnel, the goals and metrics you should measure, and brief overview of some popular tools.
Mobile App Markets
If we enter a mobile app world we will probably go to one of the most popular ones:
Android Play Store (> 2.8 million live applications)
Apple App Store (> 2.2 million live applications)
Samsung Galaxy Apps
LG SmartWorld
Huawei App Store
Amazon App Store
These numbers show us that the competition is strong and probably our app must compete with at least 50 or 100 other apps on the same topic as ours.
Mobile App Marketing (MAM)
There are many definitions on the internet about mobile app marketing…
"Mobile app marketing is the process of creating marketing campaigns to reach your users at every stage of the marketing funnel. Learn key mobile app marketing tactics for every stage of user engagement with your app."
The difference between mobile app marketing and mobile marketing:
MAM creates complete campaigns for a mobile application, it follows the complete cycle – from downloading the app, first engagements, becoming a regular user, and using many in-app purchases.
On the other hand, mobile marketing is every marketing that happens on mobile devices, including advertisements on websites, the banners presented on responsive web pages, email marketing, etc.
Like the general conclusion, we can say MAM is a subset of Mobile Marketing.
Mobile App Marketing Funnel
In the terminology of marketing, we often meet the word marketing funnel. Here is one definition of what it is:
"The marketing funnel is a visualization for understanding the process of turning leads into customers, as understood from a marketing (and sales) perspective."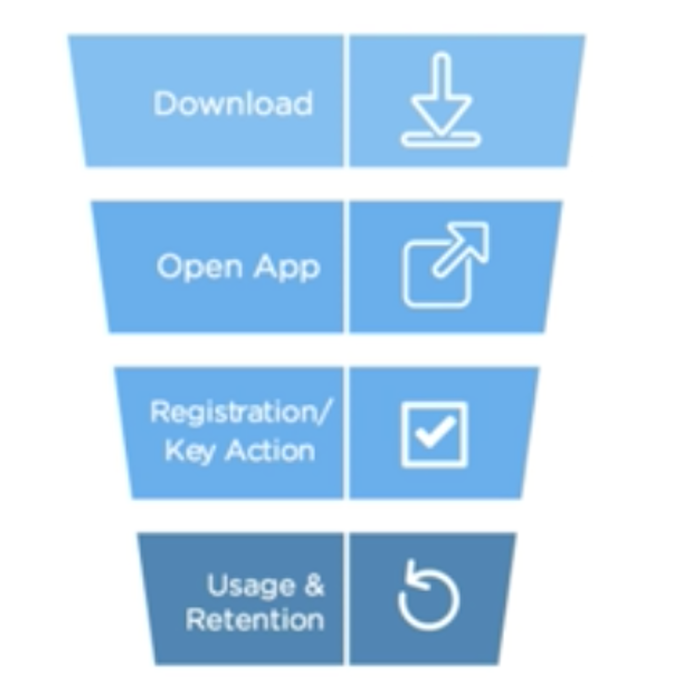 A typical marketing funnel consists following stages:
Awareness
Consideration
Conversion
Customer Relationship
Retention
Let's see a little deeper the three most important stages: awareness, conversion and retention.
Awareness
Even before we make our first release of the application we have to make awareness for our app. It's not enough to start marketing after the release. The goal is to attract targeted users to your app before the production phase.
Here are a few different ways to attract new app users and raise awareness about your app:
Using social media
Launching paid advertising
App store
Websites for reviewing apps
Using QR codes
Conversion
Conversion is maybe the keyword if we see it from a business perspective. Conversion is every step that leads to financial benefit for our application. Conversion is every paid download of our application, every user that creates a profile and completes the onboarding process, every in-app purchase inside the app. As a conversion, we could count a regular use of our app.
The strategies we could use for a better conversion include the following:
Providing an easy registration process, with clear and not confusing steps for finishing the onboarding process
App free of bugs
Clear UI with great UX
Using push notifications and inside app messages to keep users engaged and informed about new things
Retention
Have you ever had this happen to you? Downloaded an app and deleted it in the next few minutes? For me personally yes – multiple times. I can witness that the reasons were difficulties in the registration process, mandatory registration, or apps with only landing page visible and paid strategy to see all other stuff inside.
The user is our KING and we have to make him happy. To make the users happy we must find what their needs are. Understand their desires, the way they want to use the app, what time of the day they are most active, are they happy if we are sending messages in the mornings or later in the night?
It's 5-25 times more expensive to replace a customer/user than to keep one existing.
Some of the strategies to improve retention are push notifications, in-app messaging, taking surveys, or starting loyalty programs.
Goals and Metrics
There are different tactics and strategies in Mobile App Marketing, but there are two things in general that are present everywhere: Setting up goals and measure the key metrics to know if your strategy is working properly. The goals are necessary to know what we want to achieve with our marketing strategy. For example, our strategy could be increasing the number of downloads, by improving the quality of the keywords used in the store.
There are many different app marketing metrics but I will describe only the most important ones:
Churn rate
This is the percentage of users that stop to use the app. Statistics showed that almost 70 per cent of the users stopped using the app immediately after the installation, and around 98 per cent after 3 months.
Session Length
This parameter is for the time that the user spends in the application from login to close the application. Different applications should measure and consider this metric in different ways. For example, if we have an application like the a Health Fitness Application where the user is tracking the steps or the time spent in the gym, 1-2 minutes could be enough time. On the other side, if we measure the session length for an application for a newsfeed or a complex game – 2 minutes are not enough time.
Retention Rate
This is the percentage of users that come back to the application during a period of time and use the app regularly. Knowing the statistics of the people who use the app is a big benefit because we can target those profiles of users in our marketing channels.
Lifetime Value (LTV)
This metric is related to application revenue. It represents the financial value of our app and how much each customer is worth for us.
Tools
On the market for MAM tools, the offer is huge. There are many online tools. The span of services they offer is from App Store Optimization (ASO), sending a push notification through keywords improvement strategies and A/B testing tools.
Some of the tools offer great user interfaces, a lot of beneficial statistics that can help us build our mobile app marketing strategy.
Here is a list of the most popular ones:
Firebase
Optimizely
App Annie
AppRadar
Google AdMob
Leanplum
Airship
DeepLink
Personally I have experience with few of these like Firebase and Airship which offer a ton of services. Firebase is a very powerful tool, but I will go in more detail and will compare some of these tools in my next post.
Because of the big competitions, we should be aware that a top-quality application is not enough. A good mobile app marketing strategy is a must!
What is next?
This post will continue with a comparison of some of the most popular MAM tools. We see some great examples of how these tools help big companies to improve their marketing. I will make a comparative analysis of the prices and the plans they are offering. Also at the end, I will give some suggestions on how we can use these tools to improve our mobile strategy.